At Eco UK Group, we couldn't be more proud of Lucy Mortimer! She recently accomplished a fantastic achievement and made history by becoming one of the first-ever electrical apprentice's from Loughborough College to win a heat at York College and qualify for the Sparks magazine's female skills grand final. 
Lucy started with Eco UK Group back in October 2021 and was the first female to apply for an apprenticeship. At the moment she is a stage one apprentice but in many ways, down to the quality of her work and customer service skills, she is head and shoulders above her stage one level.
The apprenticeship works much like a school academic year completing a stage each September, with four stages in total. While this is the case Lucy is challenging herself by trying to finish the four year apprenticeship in three by completing all of her NVQ work ahead of time.
Studying through JTL, a leading provider of apprenticeships in both electrical and plumbing industries, Lucy showcased her expertise through a range of challenges which tested her abilities in the electrical trade. This groundbreaking initiative encourages and promotes gender diversity in a predominantly traditionally male dominated trade. Showcasing female talent and inspiring future generations of women to consider a career in the electrical and plumbing industry.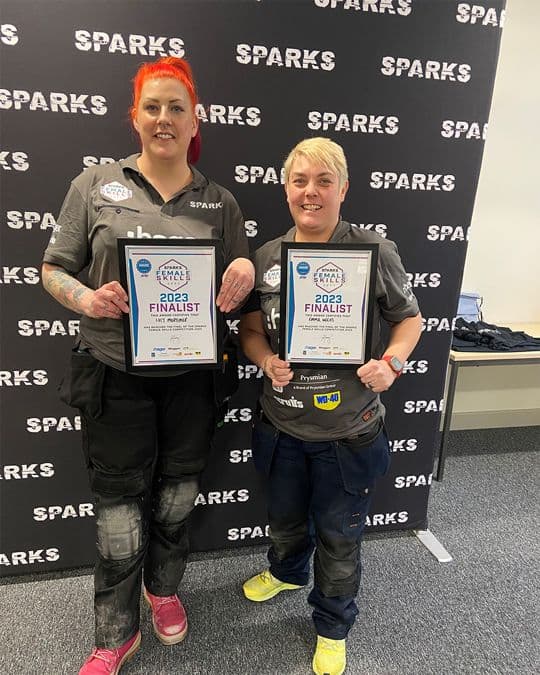 After earning one of the three places in Sparks magazine's Female Skill grand final Lucy is now ready to take part in the upcoming final against other exceptional females apprentices from around the country, for one female to be crowned female skills champion.
We congratulate Lucy for blazing such an incredibly inspirational trail for both electricians and females alike; reminding us all about what's possible if you dare to dream big. Wishing her the best of luck in the upcoming final on the 30th of March at Loughborough College.
To read the original article please click here 
Image: Lucy Mortimer (JTL Apprentice) and Emma Weeks (JTL Apprentice) / source: Loughborough College