Quick Read
Ecolighting supports top training facility with LED lighting. Manufacturers and installers of energy efficient lighting solutions EcolightingUK is glad to support leading training provider to the logistics and automotive sectors Mantra Learning.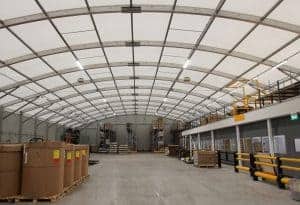 Based in Manchester, Mantra Learning has been offering learning and skills programmes for over 50 years. The company has helped thousands of people to achieve their potential including more than 500 apprenticeships, over 200 large goods vehicle licences and 1,100 fork lift truck licences achieved each year.
Over the last three years, Mantra's Job Gym has trained more than 2,600 unemployed people and helped over 1,100 of them to secure employment. The Job Gym programme, delivered in a real working warehouse, gives job seekers the skills, knowledge and confidence to gain sustainable employment and change their lives for the better.
Mantra Learning is also the founder of the National Logistics Academy, a network of 30 specialist providers delivering apprenticeships and training to big-name logistics companies nationwide. The organisation's Pathway to Apprenticeship programme provides school leavers with their first experience of the world of work. The site now serves as a permanent exhibition for Ecolighting, whose logo will appear on products all around the massive 610,000sqft facility.
The large use of branding serves as great marketing material for the company and is an ongoing reminder of its sponsorship of the deserving organisation.
Steve Gardner, Managing Director at EcolightingUK Ltd, commented, "We are proud to have supported such an amazing organisation. The facility is extremely impressive and we see this as a sound investment for Ecolighting, and a huge opportunity to show the logistics world the products and services we have to offer."
Mantra Learning
Ecolighting supports top training facility with LED Lighting
Mark Currie, CEO of Mantra Learning, commented, "Ecolighting have been a pleasure to work with and have fitted our huge site with energy efficient and effective LED lighting. The new lights were fitted in our new facility for reverse logistics and are a nice clean white, are sensitive to movement, easy to maintain and can be moved around if necessary."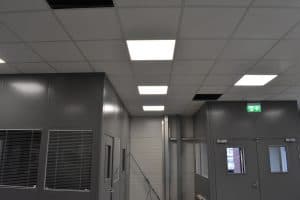 "I was very impressed with the engineers, who should be recognised for their punctuality, lack of disruption and overall great attitudes. Not only were they tidy, honest and accommodating, they came to me and questioned the plan in place when they knew it couldn't be right. They not only challenged what they knew was wrong but asked for my input for the new strategy, which I found very commendable."
He continued, "Outside the building we also had our street lighting updated. The lights we had in place were very ineffective, and despite an installation issue everything was great. The team of engineers kept us informed of everything that was going on so when a problem did arise, I knew exactly what was happening. I would highly recommend Ecolighting to anyone looking to upgrade their lighting and am very pleased with the end result."
Chosen for the installation at the Mantra Learning site are the Pegasus LED, Sapphire LED and LED ceiling panel luminaires, as well as the Medusa LED streetlight.
Pegasus from Ecolighting is a top specification LED high bay luminaire and one of the company's most popular light fittings. Installed through the site's warehouse, the Pegasus is encased in a robust yet lightweight and stylish aluminium body and uses an Osram driver and top quality Osram LEDs giving 166 lumens per watt and up to 80% energy saving in installations.
For the Manchester site's mezzanine area, the Sapphire luminaire was chosen. Sapphire from Ecolighting is one of the company's most popular LED luminaires for use in commercial and industrial environments. Manufactured by Ecolighting in the UK, Sapphire features high output chip-on-board LEDs and OSRAM driver encased in a linear body with a polycarbonate diffuser, all rated IP54.
All of the Mantra Learning's offices, toilets and corridors are fitted with indoor LED ceiling panel luminaires. The Panel LED ensures energy savings of up to 50% compared to conventional luminaires and is designed with a very slim aluminium housing and matt white frame.
Testimonials
Rico Group - Warranty
"The lighting has PIR sensors and further intelligence to check if the lighting level is sufficient and therefore won't activate the lamps even though the PIR is triggered. The lamps automatically adjust every 10,000 hours (depending on use) and increase output to adapt to the degradation in the lamp over its lifetime. An additional benefit is that the system comes with a 10-year warranty, which is double that of all other suppliers."
Keith Whitehead, Head of Strategic Development at Rico Group
Fitted outside to cover Mantra Learning's 4.5 acre site, the Medusa LED streetlight is projected to save the business 55.3% per year in energy savings. By using top quality LEDs in Medusa, Ecolighting ensures high thermal conductivity, minimal light decay, pure light, very stable performance and a 50,000-hour lifespan.
As one of the UK leaders in LED lighting solutions to commerce and industry, Ecolighting has worked with many other big name companies such as Amazon, Bibby Distribution, Kuehne Nagel, Debenhams, Carlsberg, Culina, Cadbury and Great Bear.
Further information on energy saving LED lighting schemes is available from Ecolighting on 01455 552511, by emailing enquiries@ecolightinguk.com or by visiting the company's website at www.ecolightinguk.com