Quick Read
Ecolighting UK has recently been specified for LED lighting at the 164,000 sqft Minworth Central warehouse in Minworth near Birmingham for client Rico Logistics. Which will provide up to 80% energy saving resulting in an annual saving of more than £19,600.
Rico Logistics provides the ultimate in smart and cost-effective logistics solutions throughout the UK, Ireland and Europe and offers a totally integrated logistics solution. Rico has been delivering a multi-faceted suite of solutions from same day courier services to Break/Fix technical repair and replace solutions and warehousing and distribution management to businesses for more than 25 years.
As part of its continued growth, Rico moved from its previous 26,000 sqft premises to the larger Minworth Central distribution building, and Ecolighting was chosen for its reduced costs against competitor prices and the efficacy of its fittings to replace the lighting in place.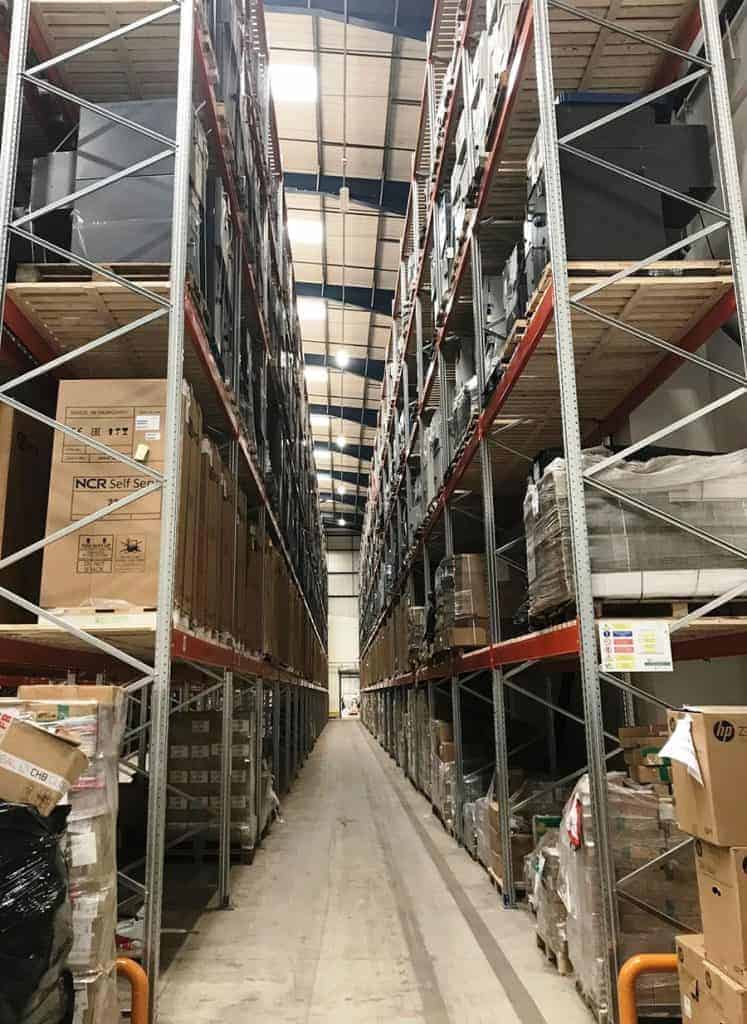 The logistics giant needed efficient lighting for its rear transfer aisle, 13 picking aisles and goods in/out area and chose Ecolighting's Pegasus LED high bay and Altos emergency LED lighting following a recommendation from specialist space saving warehouse truck manufacturer Flexitruck.
The warehouse was assessed by Ecolighting and 16 240W 120 degree beam angle, 72 180W 30 degree beam angle, seven 160W 40 degree beam angle and six 180W 40 degree beam angle Pegasus LEDs and 37 Altos emergency lighting luminaires were chosen as the best solution.
Keith Whitehead, Head of Strategic Development at Rico Group, commented, "I would happily recommend Ecolighting to anyone looking to update their lighting. They reduced the amount of luminaires needed by 50% over other quotes specified and were 20% cheaper than their competitors." 
He continued, "The lighting has PIR sensors and further intelligence to check if the lighting level is sufficient and therefore won't activate the lamps even though the PIR is triggered. The lamps automatically adjust every 10,000 hours (depending on use) and increase output to adapt to the degradation in the lamp over its lifetime. An additional benefit is that the system comes with a 10-year warranty, which is double that of all other suppliers."
"We look forward to seeing how the lighting looks when all the racking is in place so we can really judge its effectiveness. We also have a guarantee from Ecolighting that if the necessary lux levels aren't met once the warehouse is filled they will make adjustments free of charge, which is another benefit."
Ecolighting's Pegasus uses an Osram driver and top quality Osram LEDs giving 166 lumens per watt and up to 80% energy saving in installations. At Rico, this will also result in an annual saving of more than £19,600 in replacement lamps, climate change levy reductions, maintenance and carbon credits.
Ecolighting's compact Pegasus luminaire is a top specification LED High Bay luminaire and one of the company's most popular light fittings. Encased in a robust yet lightweight and stylish aluminium body, the sealed dustproof construction prevents access from insects and makes for easy cleaning. The Pegasus High Bay luminaire is used by Ecolighting frequently for a wide range of applications from industrial, warehouses, cold stores and manufacturing to sports halls and retail stores.
The Altos emergency luminaire from Ecolighting is part of the company's flagship LED high bay lighting solutions designed for use in mezzanines, warehouses, in manufacturing, freezers/chillers and areas with high ceilings.
Testimonials
MAN Truck & Bus UK
"I would definitely recommend Ecolighting to others. They have always been very supportive to our needs and carried out all installations without any disruption to the business. Their aftersales support is excellent and they are very quick to respond/attend to any requests. They have very friendly staff and nothing is too much trouble, no matter how large or small your company is I feel everyone is of equal importance to Ecolighting. We are very happy with the results hence the ongoing use of their services."
Tracy Lister, Property Manager at MAN Truck & Bus UK
Unlike many other lighting companies, Ecolighting has its own team of lighting and electrical installation engineers as well as carrying out the lighting scheme design with Relux software in the early stages of client lighting projects. The company also manufactures its luminaires in the UK and uses UK-sourced Osram control gear and LED chips. All of this means that the company has much better control than many and can present better value for money to clients. The company are also assessed to BSEN ISO 9001:2015 and are members of the Lighting Industry Association.
As one of the UK leaders in LED lighting solutions to commerce and industry, Ecolighting has worked with many other big name companies such as Amazon, Bibby Distribution, Kuehne Nagel, Debenhams, Carlsberg, Culina, Cadbury and Great Bear.
For further information on energy saving LED lighting schemes please complete the contact form or email enquiries@ecolightinguk.com